FAIR TRAILS® EXPLORER WANTED!
Through the wild Wester Balkan mountains
"Where travelers are part of the solution, not part of the problem!" With Fair Trails® we want to make the world a little bit better. That is precisely why it is important to responsibly select those regions where we develop a Fair Trail and put them to the test with our Explorer Tours.
Like a gigantic wall, the huge Dinaric Mountains and the neighbouring mountains to the south, such as Šar Planina, Korab & Deshat Mountains, Jablanica Mountains and Galichica Mountains, stretch along the eastern coast of the Mediterranean Sea from Slovenia to Greece. Mountains that are still in a state of slumber, especially in the countries of the Western Balkans – such as Northern Macedonia, Albania and Kosovo. Little developed for tourism and often still a white spot on the map, they offer an originality and authenticity that has become rare in Europe. It is not without reason that Karl May described the mountains of Šar Planina very vividly in his books. In the mountainous regions between northern Macedonia, Albania and Kosovo, there will soon be the High Scardus Trail, which is a long-distance hiking trail that provides excellent access to the magnificent mountain landscapes and secluded mountain villages with their centuries-old cultural life.
The careful life with nature and the remoteness of the mountains has led to the fact that the bear and wolf populations are still intact. The shepherds have been prepared for this for centuries: the impressive Sharri Dogs (Šarplaninac) as guardians of the sheep herds are proof of this. To guarantee that coexistence between humans and wolves or bears is also possible in the future, we support herd protection measures around the Sharri Dog as part of this Fair Trails® Explorer Tour.
Date I Duration:
Land I Region:
Type of travel:
Experience:
Impact:
7. – 17. September 2022 I 11 days
Northmacedonia, Kosovo and Albania I
Šar Planina/Korab/Galichica
Moderately difficult trekking tour on narrow paths
Touristically little developed mountains of the Western Balkans in all its authenticity
Support of herd protection projects to indirectly protect wolves and bears
Design a new Fair Trail with us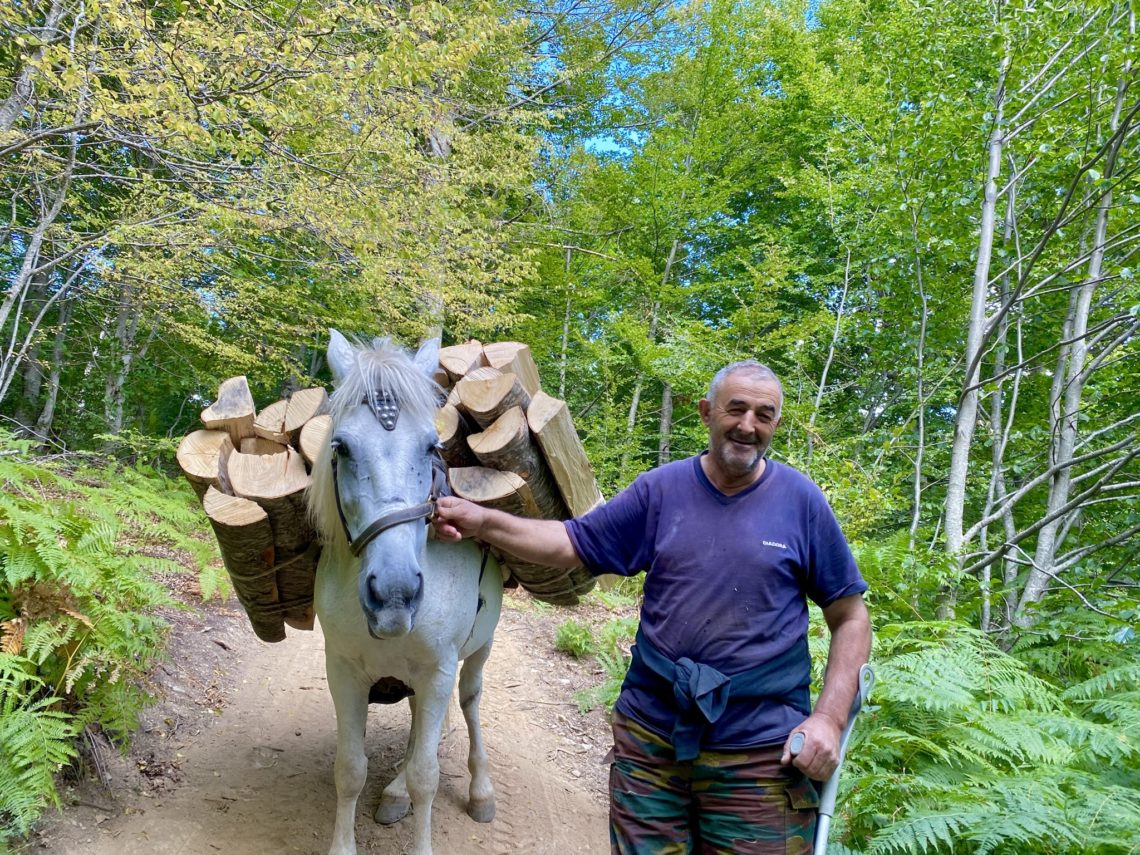 Who needs a car? Here, sustainability and low impact on the environment and nature are lived in daily life: Wood transport in Albanian © Trail Angels
The Fair Trails® Explorer Tour on the High Scardus Trail, which is currently under development, into the border mountains of northern Macedonia, Albania and Kosovo is a journey into a region still little developed for tourism. A region, which is also therefore so authentic, as one might not think it is still possible in Europe. With an unbelievable cultural variety, which results from the constant changes between the three countries Kosovo, North Macedonia and Albania. And which is still lived through the remoteness of the mountain villages. Also the trekking itself runs through areas that not many tourists have seen. Pathless or over narrow paths that are the opposite of well-trodden trails. On the official High Scardus Trail website you can get first insights of what will expect you on this experience.
Due to the limited experience with tourists, you are often more guest than tourist. Therefore, we are looking for experienced trekkers with a spirit of discovery, tolerance, patience and humor for this Explorer Tour, because not everything will always have the Western European standard. However, this is more than made up for by incredible hospitality.
Your mission will be to explore and design a new Fair Trail together with local guides and the experienced Balkan expert and Fair Trails® Explorer Stefan Lieb-Lind. To lay the foundation for fair and responsible tourism and for a careful and sustainable development in the fascinating Western Balkans.
The idyllic Albanian mountain village Rabdisht with its many stone houses is the final point of the second part of your trekking on the High Scardus Trail © Trail Angels
A trekking trip on the brand new High Scardus Trail through hardly developed mountains of the Western Balkans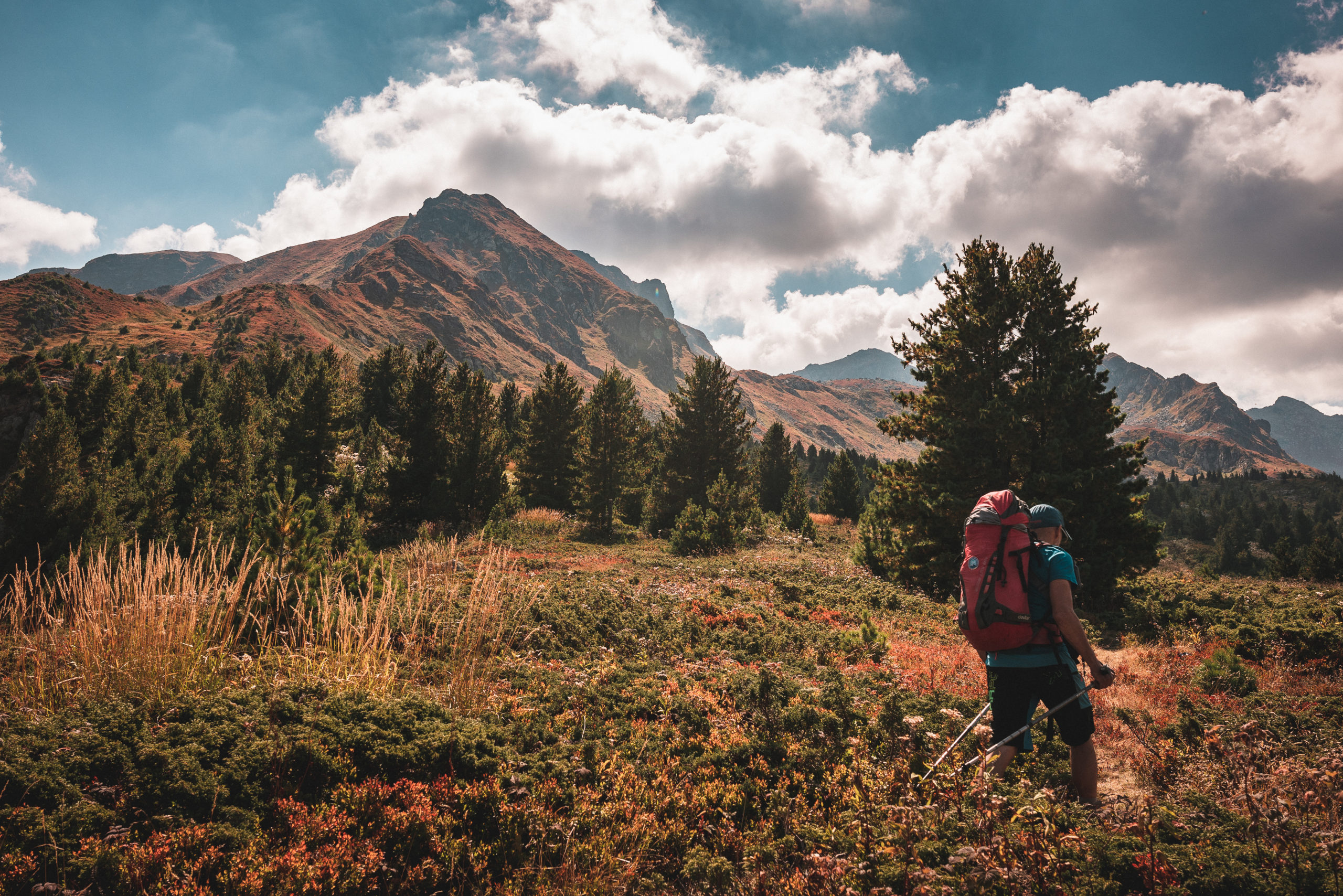 In between also times pathless on the way: the Šar Planina, the large border mountains between North Macedonia and Kosovo, is in large parts still little developed for tourism © Fair Trails®/Matthew Nelson
The Fair Trails® travel destination: Western Balkan
Šar Planina, the Korab Mountains with the 2,745 m high Korab as the highest peak of Albania and northern Macedonia and the Galichica Mountains are all part of the mountain range that stretches south of the Kosovar city of Prizren with its absolutely worth seeing old town to the legendary Lake Ohrid. A trekking trip as it can not be more varied: You'll start at the Ljuboten Mountain Hut, one of the few preserved historic shelters in the Western Balkans, two lonely and long stages on the High Scardus Trail through the Šar Planina (also known as the Sharr Mountains) before being taken to Prizren at the foot of the Šar Planina. Here you'll have an evening and half a day to immerse yourself in the melting pot between Orient and Occident – the old town, with its vibrancy and many mosques, is incredibly infectious and is certainly one of the most worthwhile cultural spots in the Western Balkans. In the afternoon, a shuttle will take you back into solitude, namely back to the abandoned northern Macedonian nest of Strezimir at the foot of the Korab. Now three stages on the High Scardus Trail lead you over Mount Korab to Albania and further along shepherds' paths over alpine pastures to Rabdisht, one of the most beautiful mountain villages in the Western Balkans. After a rest day where you can explore the second cultural highlight, the historic old town of Ohrid on the lake of the same name, you will hike the two final stages of the High Scardus Trail over the Galichica Mountains with an overnight stay at Magaro Mountain Hut. These two stages are once again a very special highlight, as the Galichica Mountains form the narrow ridge between Lake Ohrid and Lake Prespa – fantastic views of both lakes included!
During the Explorer Tour, we will encounter the topic of "herd protection by Sharri Dogs" again and again: for example, on the first stages, why there is little alpine farming on the Kosovar side of the Sharr Mountains anymore and why the bears seek the vicinity of the villages at night. You will have the opportunity to discuss herd protection with herders and admire and observe the mighty Sharri Dogs. Or discuss with our expert why the existence of bear and wolf is a good sign to live carefully with nature. And why the Sharri Dogs, although traditionally very anchored, are more and more replaced by smaller dog species – with all the resulting consequences.
Nothing escapes the Sharri Dogs – they are the guardians of the valleys and pastures. And indirectly guarantors of the wolf and bear habitat, as they enable the coexistence of sheep flocks and wolves or bears © Fair Trails®/Matthew Nelson

Your Fair Trails® Experts & Explorers
Taulant comes from Prizren and lives and works today in Pristina as a manager for communication and tourism development at one of the largest animal protection organizations in the world and therefore knows the conflict area of herd protection and bears or wolves very well. He is an expert in herd protection and coexistence of humans and animals, and is happy to share this knowledge. Furthermore, as a passionate outdoor expert and co-founder of the adventure tour operator "SupereXplorers", he is very familiar with the region of the High Scardus Trail.
Trail developer with the Trail Angels as well as state-certified mountain and ski guide. Is convinced that travel in the future will only be possible with a sensitive approach to the local population and natural resources. And that this is precisely why travel is gaining in value. Loves to discover and has brought it worldwide to more than 100 first ascents in rock and ice.
.
Environmental system scientist (focus on geography), state-certified mountain and ski guide and climbing globetrotter (e.g. Patagonia, Chile, Bolivia, Iran, Morocco, Kenya, Tien Shan, Nepal, USA, Montenegro, Albania).
Program of the Fair Trails® Explorer Tour
Attention time trap! The blueberries in Kosovo along the High Scardus Trail are subjectively the best in the world. There you can sometimes forget the time © Fair Trails®/Matthew Nelson
1. Day | 07.09.2022 | Arrival Skopje, drive to Ljuboten Hut
2. Day | 08.09.2022 | ET02 Ljuboten Hut – Brezovica
3. Day | 09.09.2022 | ET03 Brezovica – Prevalla. Drive Prizren
4. Day | 10.09.2022 | Morning guided city tour. Afternoon drive Prizren – Strezimir
5. Day | 11.09.2022 | ET10 Strezimir – Radomire
6. Day | 12.09.2022 | ET11 Radomire – Grama
7. Day | 13.09.2022 | ET12 Grama – Rabdisht
8. Day | 14.09.2022 | Morning shuttle Ohrid – Afternoon sightseeing Ohrid. Evening shuttle Velestovo
9. Day | 15.09.2022 | ET19 Velestovo – Magaro Hut
10. Day | 16.09.2022 | ET20 Magaro Hut – Sveti Naum. Ship shuttle Ohrid
11. Day | 17.09.2022 | Shuttle to Skopje. Departure
The destination of our Explorer Tour: The Šar Planina, Korab and Galichica Mountains between Prizren in the north and Lake Ohrid in the south – Terra Incognita in Albania, North Macedonia and Kosovo © Google Maps
Hard Facts: Explorer Tour High Scardus Trail
Datum: 07. – 17. September 2022
Price: € 1.478,- 
This is an "Explorer Tour Nice Price" (cost price without commission); € 60,– per person will be donated to the project "Herd protection by Sharri Dogs for a coexistence with bear and wolf"
.
Included in the cost:
Overnight stay in double room in selected hotels/ guest houses (where available) or in tent (during trekking)
Full board
All mobility services from Skopje airport
Guidance by certified mountain and ski guides and accompaniment by Fair Trails® experts
Accompaniment by local guides
Luggage transport (max. 15kg/person) during trekking
Sightseeing tours in the historical cities of Prizren and Ohrid
All necessary permits
Impact fee for herd protection by Sharri Dogs
Immersion in the topic "Herd protection by Sharri Dogs
CO2 flight compensation with our partner Atmosfair® (based on economy)
Expert advice during travel preparation
 
03 — YOUR WAY TO BECOME AN EXPLORER
Become an Explorer & create a new Fair Trail with us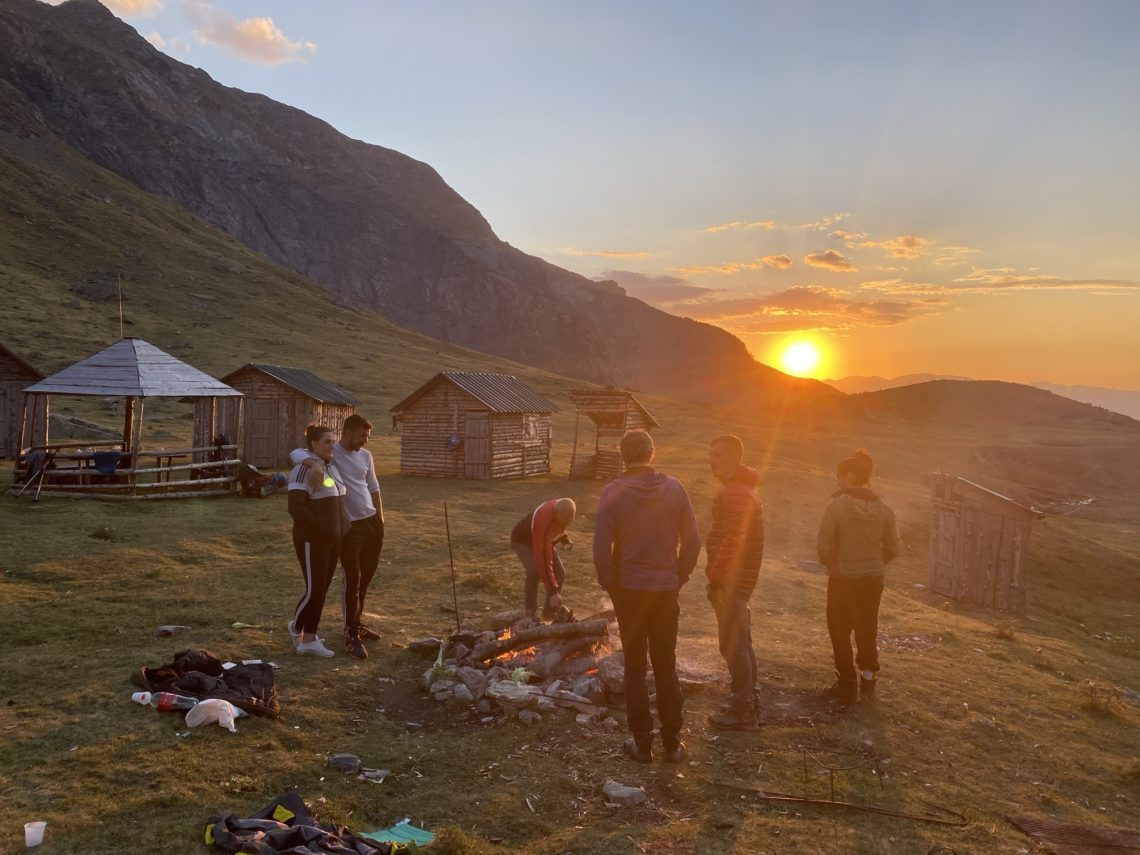 The harmony of silence: sunset in Grama, an Albanian alpine pasture on the High Scardus Trail, the place of your overnight stay in tents © Trail Angels
What awaits you as an Explorer?
.
We developed the "Explorer Tours" travel format to explore new Fair Trails® or (as with this one) to test future Fair Trails® offerings. So explorer tours are very special expeditions that open up a unique experience with profound insights into the centuries-old traditions and challenges of the region and invite you to actively participate in shaping them. After all, your inspiration and creativity are needed for product development, the integration of impact projects, as well as for travel reports.
For this Explorer Tour, experienced trekking travelers with a spirit of discovery, tolerance, patience and humor are needed, because in areas that are little developed for tourism, the unexpected is the rule rather than the exception. Team spirit is very important to us! Because an inspired and cool team with great solidarity will have a lot of fun together on this Explorer Tour and to lay the foundation for a sustainable future for the people in the border mountains between northern Macedonia, Albania and Kosovo.
How can I become an Explorer?
We made you curious? You want to become part of the Fair Trails® community and thus participate in the future of new travel? And you think that this Fair Trails® Explorer Tour is the right one for you? Then just send us your interest in this Explorer Tour!
We will then get in touch with you and together we will tackle the further milestones for the Explorer Tour step by step. And we are already convinced: You have made the right decision and we will explore the High Scardus Trail together. We look forward to hearing from you!
or simply ask for more information without obligation.
Want to keep up to date on Fair Trails® activities or become part of the Fair Trails® community?