This is the impact of Fair Trails® 
It's worth taking a closer look on this page! Fair Trails represents a new tomorrow, a sustainable transformation of travel. Just follow the Fair Trails trip in the beautiful painting of the famous Nepalese painter Wang Lama and learn more about the impact of this kind of journey.
01 — MINIMUM LENGTH OF STAY
Effective
for your carbon footprint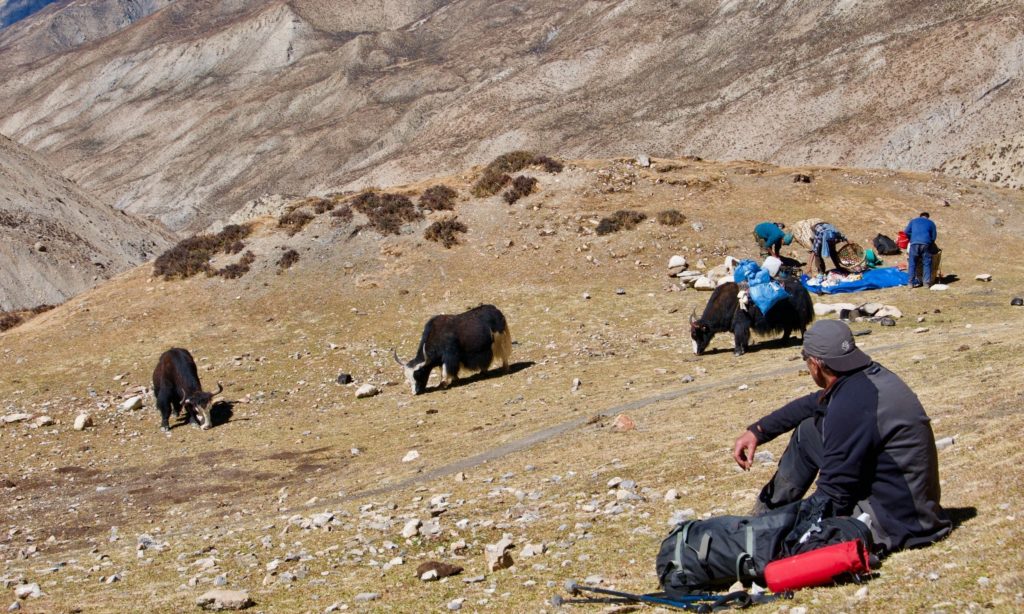 Take your time, dive in, go deeper. Fair Trails® Experiences take time. And that's a good thing! Resting on the famous Salt Route in Dolpo/West Nepal ©Trail Angels
The minimum length of stay criteria sounds simple, but it's effective! Because Fair Trails® Experiences are lifetime experiences and should trigger a change. Both in the destination you are traveling to and in yourself. And that takes time. Which is good. Because it can bring about more change in you and in the destination. And at the same time improve the carbon footprint of your trip. Well, there is no more climate-damaging form of travel than a short vacation by plane. That's why the minimum travel duration for Fair Trails® Experiences is 14 days. You will not find a shorter trip on this website!
Fly fair
with Climate Austria
Allowing nature to breathe a sigh of relief. Climate Austria's projects promote reforestation programs and investments in renewable energy. ©Trail Angels
WWe are completely honest: Our Fair Trails® Experiences are carried out in countries that cannot be reached without airplanes. And flying is harmful to the climate. To make all these great trips possible, it goes without saying that we compensate your flight. With our partner, Climate Austria, the official compensation platform of the Republic of Austria. And with Climate Austria we are also working on supporting more projects in our selected destinations in the future. If you have already compensated your flight yourself, this amount will of course be credited to your travel price.
03 — SELECTED DESTINATIONS
Especially
unconventional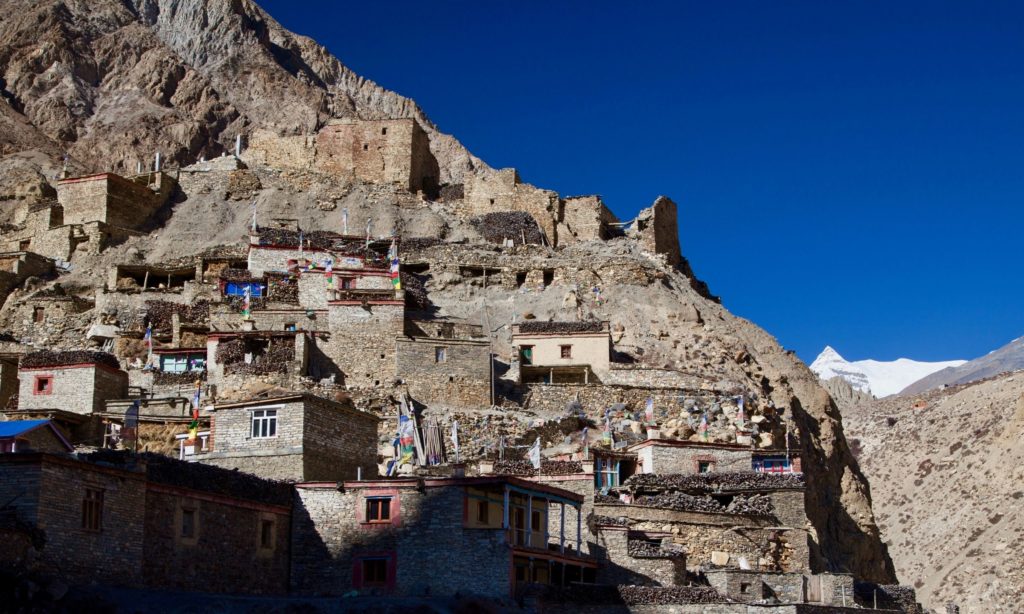 Sustainable tourism for development: The remote village of Phu on the border with Tibet is located on the Snow Leopard Trail and should benefit carefully, wisely and in the long term from this trail. ©Trail Angels/Essl
The destination of a Fair Trails® Experience is always chosen very carefully. It is important for us to go off the beaten track and to set an impulse for responsible tourism in underdeveloped regions. By revealing the great mysteries and particularities of the various regions to you with the support of selected local experts. Whether challenges in nature or species protection, the preservation of special cultural heritage or questions of social development: A Fair Trails® Experience is always dedicated to a fascinating topic – from local to global significance. And always connected with the involvement and active support of a project, which locally and unbureaucratically stands up for the Fair Trails® goals.
04 — ECOLOGICAL FOOTPRINT
Sustainable
at all stages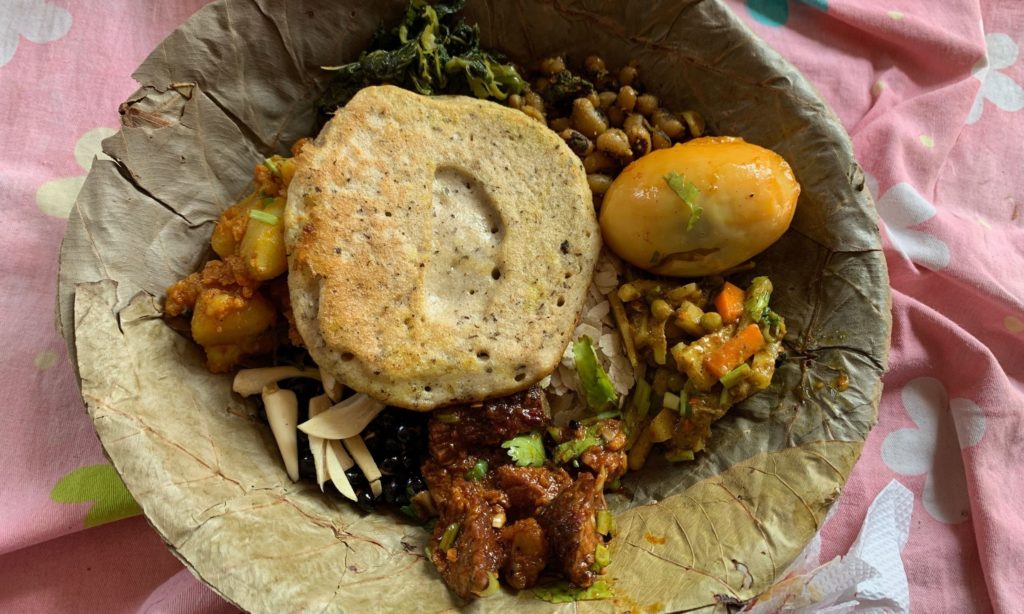 Nourishing yourself with what the land provides is an active contribution to climate and environmental protection as well as to regional value creation. And it usually tastes delicious, too. ©Trail Angels
When designing a Fair Trails® Experience, we and our partners naturally attach the greatest importance to a high level of ecological sustainability. Also to keep our footprint in the traveled or hiked region as small as possible. In doing so, we do not only proceed theoretically, but as practically as possible. And so we focus more on the continuous education and training of our Fair Trails® partners than on hardly verifiable catalogs of criteria. Because a common set of values is more important to us than constant controls. From waste avoidance, to waste management, to avoiding domestic flights as far as possible, as well as locally sourced meals are just a few examples of the ecological design of our Fair Trails® Experiences.
05 — FAIR WORKING CONDITIONS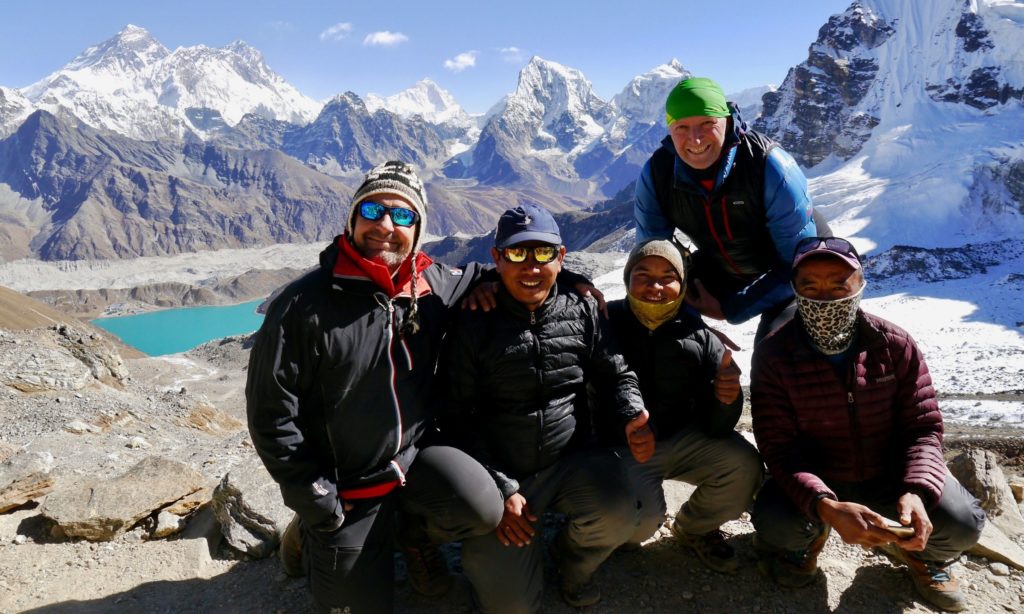 Smells like Team Spirit: Fair working conditions are one of the most important cornerstones of the Fair Trails® Experiences. Moreover, they increase the satisfaction of the trekking crew. This group at Renjo La clearly enjoys their job! ©Trail Angels
The question we face here is as simply formulated as it is difficult to answer: How can we create just journeys in a world that is yet very unjust? It is incredibly important to us that our Fair Trails® Experiences are not carried out at the expense of local service providers, either socially or economically. To that end, we select our local trekking agencies primarily based on their willingness to share our values. We work together on the products and, once they have done their homework, they are given the Fair Trails® label. With this, we ensure for example fair wages and the best possible insurance coverage for the trekking crew. We also offer them opportunities for further education and, as a result, for social progression.
06 – REGIONAL ADDED VALUE
Welcome to your
home away from home
The comeback of the good old private guesthouse: accommodation in so-called homestays with families enables travelers to have inspiring encounters and families to increase their income. ©Trail Angels
NIn addition to environmental and social sustainability, the Fair Trails® program is also committed to increasing regional value creation. Because with Fair Trails®, long-term sustainable development clearly takes priority over short-sighted, quick profits. To ensure that destinations truly benefit from our travels, we prefer lodge and homestay trekking over tent trekking in all Fair Trails® Experiences where possible. We stay in family-run lodges and hotels or directly with the families in so-called homestays, to ensure that the income goes directly to the locals. And we attach great importance to the use of regional food. Thus, in addition to the hosts, local agriculture is also supported.
07 — KNOWLEDGE OF LOCAL EXPERTS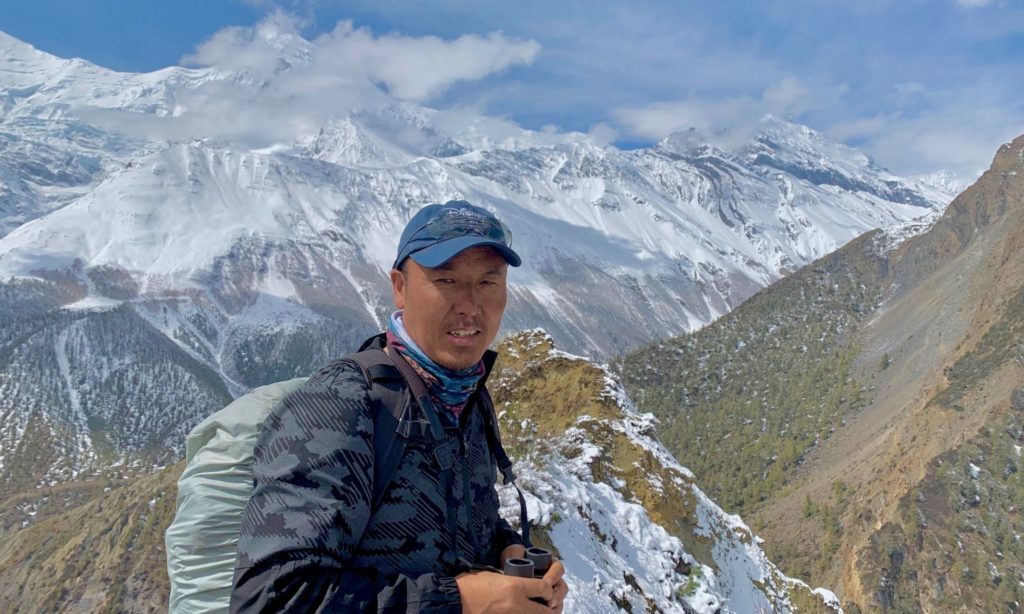 Tashi R. Ghale is our Fair Trails® expert for the Snow Leopard Trail. The nature photographer is involved in various research projects and has dedicated his life to the protection of the Snow Leopard. ©Trail Angels
An unwavering cornerstone of Fair Trails® Experiences is the guidance provided by local experts. These experts have a unique knowledge of the great mysteries and stories of each Fair Trails® Experience. And only in this way do they open up an incomparable, unique travel experience for you. With our Fair Trails® Experts we raise the undiscovered treasures of the destination, strengthen the local self-confidence and secure an additional income for the experts. And of course we strive to provide you with the best companions during the Fair Trails® Experience – from the renowned Snow Leopard expert to the nationally known food blogger and climate activist.
08 – EXPERIENCES FOR A LIFETIME
Stories,
unique & forever yours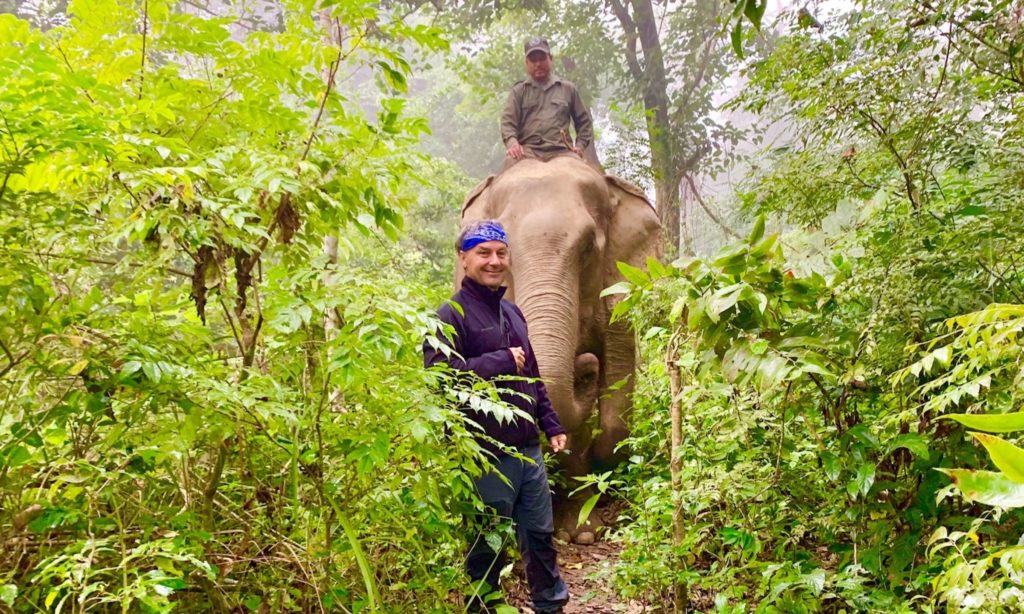 Elephants are no tourist buses: Tiger Tops Tharu Lodge is a pioneer for a species-appropriate interaction with the gentle giants. The foot march through the Chitwan National Park, attentively accompanied and guarded, is an unforgettable experience for this very reason. ©Trail Angels
This impact is meant for you: Fair Trails® Experiences offer you experiences that you would otherwise hardly ever or never experience. And you will certainly not forget them. Memories and magical moments that will last a lifetime. The Fair Trails® Experiences do not focus on the mere sensation, but on a profound adventure. So you dive deep into the secrets of the Fair Trails® Universe, get involved in the challenges of the destination, thus change your perspective and return to your home with a new view on what you have witnessed and learned. The Fair Trails® Experience sparked a change not only in the destination, but also in you.
Engaging yourself
on the right spot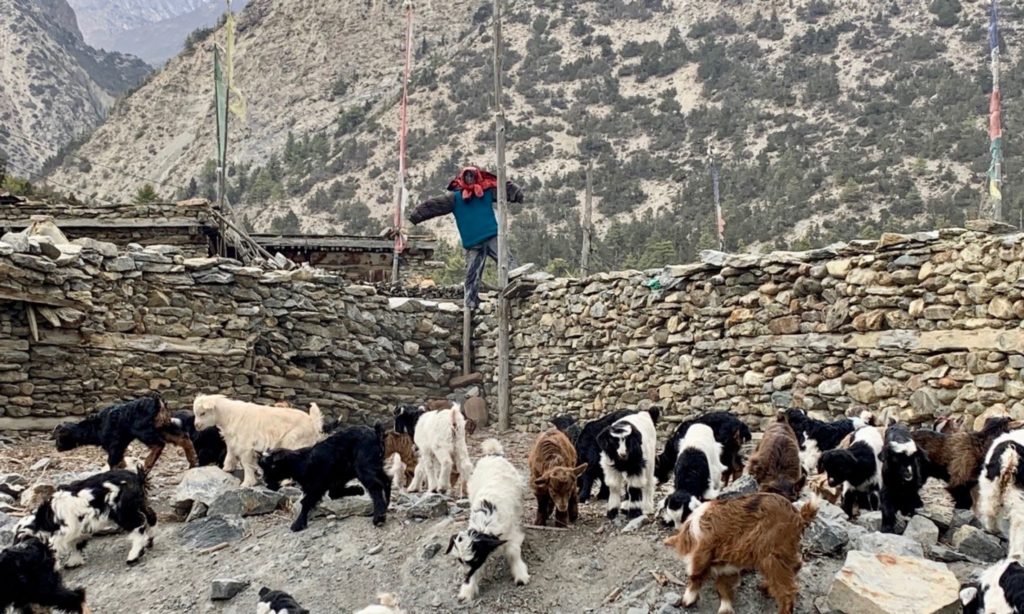 The Snow Leopard has no longer any respect for the scarecrow. Today, the mystical big cat is kept away from villages and herds with light traps, so-called "fox lights". ©Trail Angels
Supporting a local project with a part of the travel revenues from the Fair Trails® programs is the simplest exercise. For example, Trail Angels currently deduct 4% from their commission of the travel price and use this contribution for a selected project. However, it is more challenging to select the right project with the greatest possible impact. And to find professional partners on site, such as the Snow Leopard Conservancy, who look after these projects and fulfill them with life in the long term. Also, to design the Fair Trails® Experience program in a way to ensure that you are actively involved in the project. For example, delivering light traps to yak herders on the Snow Leopard Trail or much-needed water filters to remote villages in the Mahabharat Mountains on the Local Life Trail. We've made all of this happen for our Fair Trails Experiences – and we're proud of it!
Seeing the world
as a global village with us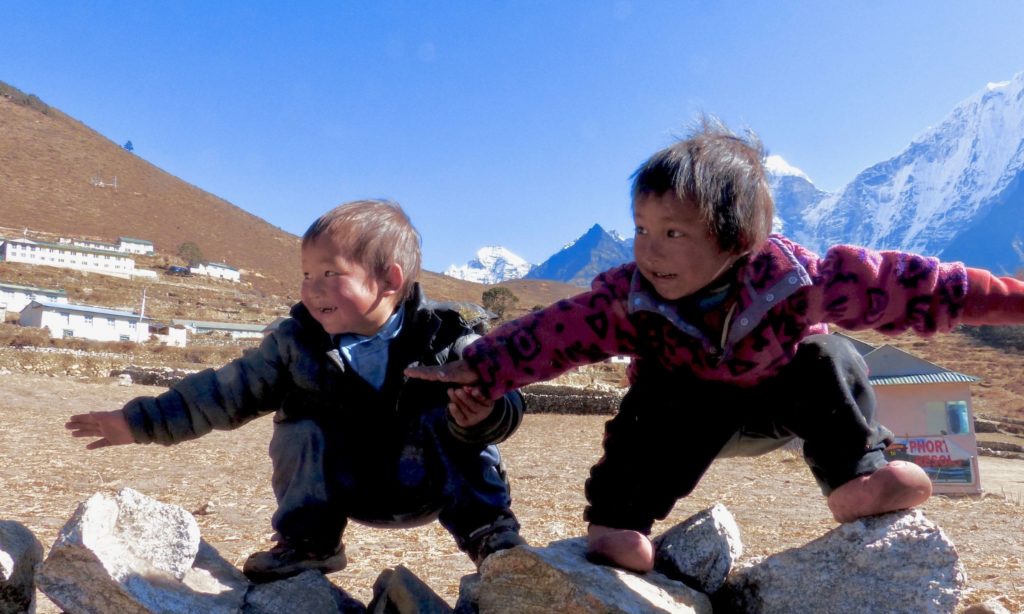 Change through Travel: Fair Trails® Experiences provides unique, profound experiences and invites you to become an ally for regional sustainability. Helping young people in the Himalayas and elsewhere growing wings. ©Trail Angels
The Fair Trails® Experiences claim to be more than sustainable and responsible tourism. They are also role models for a new, transformative travel. Travels that trigger a change in the destination as well as in you, the traveler. Because through your immersion, your change of perspective and your engagement, you will return to your life less as a traveler and more as an involved person. Sharpened with a new perspective on the big challenges outside our affluent society. And with the awareness that you have made a small but important contribution to a better world with your journey. That's why we don't measure our success in the number of bookings, but whether we gain allies. Allies for our mission with the Fair Trails®, of fair travel in a not all that fair world. Spread this idea, maybe return to a Fair Trails Experience one day and stay connected to the projects. Become an ally. This mission can not have enough supporters!
You want to travel and make your own contribution with us? Here you can find all information and offers for our various Fair Trails®!